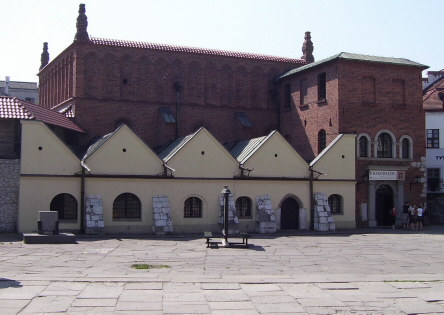 The next morning after breakfast, our driver was waiting for us with a Mercedes Mini Bus. We started out in the Jewish section, Kaszimiecz in Krakow. First we went to the old Jewish Synagogue (ON UL SZEROKA) and from there we went to the RAMU SHUL and the CEMETARY, then around the corner to my grandfather's apartment POBRZEZIE #6.

This drawing was on the wall in the hallway to the apartments.

Across the street and on the corner of MIODOWA #24 was the beautiful, completely restored and refurbished PROGRESSIVE TEMPLE. I was pleased to see that there are some foundations that are restoring all of the synagogues, temples, monuments in order to preserve our rich Jewish Culture Heritage. From there we drove down Dietla Street. This was the street I used to walk daily when I was a child, going to and from chayder (school).

Our apartment was on Starovisla 23 around the corner from Dietla or in my days it was call Dietlowska. This is where we used to live when the war broke out. The above photo of a window is where I watched the Nazis marching into town. It used to be a beautiful French Normandy building, which is now completely neglected.

As we approached the apartment where I lived, the mailman just happened to be handing the mail to the present tenant. I apologized for the interruption and explained to him that I used to live there at the beginning of the war, asking if he would allow me and my family to view the apartment and he obliged us. I was surprised to see that they subdivided the apartment and made 2 singles and one bachelor out of it. It was so very tiny and very disappointing seeing it in this condition. It made me very sad, but at least we got to see some of it.

From there we continued on Starovisla. I was looking for my fathers business which was a Sklad Vino Vysoky Ovotcove, a manufacturer of Wine (kosher) and various fruit syrups. There was no recognizable sign of any of it still existing. We continued across the visla to Podgush, where we saw the Ghetto area. From there we continued to the cemetery in Bochnia.