Three Speakers. Three Different Stories. One Purpose: "Never Again"
Join Us For An Extraordinary Event
Los Angeles
Sunday, August 23, 2015
Skirball Cultural Center
Magnin Auditorium
3:00 – 6:00 pm
Moderator / Co-Sponsor: Dr Michael Berenbaum
2701 N. Sepulveda Boulevard, Los Angeles, CA 90049
(310) 440-4500
Las Vegas
Wednesday, August 26th, 2015
Midbar Kodesh Temple
6:00 – 9:00 pm
Moderator / Co-Sponsor: Rabbi Bradely Tecktiel
1940 Paseo Verde Parkway, Henderson, NV 89012
(702) 454-4848
---
Be a part of the discussion as we bridge the past, present and future together by sharing their individual stories and uniting in a conversation about peace.
---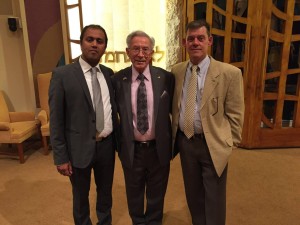 Ben Lesser – Holocaust Survivor, Author, Lecturer and Founder of The Zachor Holocaust Remembrance Foundation will speak to you about his journey surviving ghettos, 4 concentration camps, 2 death marches, 2 death trains and his remarkable relationship with Rainer Höss, the grandson of the Auschwitz commander that killed his family.
Rainer Höss – Author, Lecturer and Grandson of the notorious commander Rudolf Höss who established and ran Auschwitz Death & Extermination camp killing millions. Rainer is the founder of The Footsteps Team and makes it his life mission to speak against intolerance and prevention of future genocides.
Khubaib Ali Mohammed – Lawyer and Lecturer: One of the prosecuting attorneys involved in the infamous trial against Oskar Groening, the Nazi Bookkeeper of Auschwitz. Find out how this trial might change the legal practices in Germany and the prosecution of future genocides.
Dr. Michael Berenbaum, Moderator/ Co-Sponsor for Los Angeles Venue – Director of the Sigi Ziering Institute at the American Jewish University. An American scholar, professor, rabbi, writer and filmmaker, who specializes in the study of the Holocaust.
No tickets needed. This event is FREE and open to all who would like to attend. Feel free to contact us for more information at [email protected] OR 800.575.9583.
View and download the event flyer here.